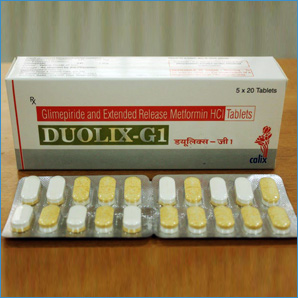 DUOLIX-G1
(Glimepiride and Metformin Hydrochloride Extended Release Tablets)
COMPOSITION
DUOLIX-G1
Glimepiride:1 mg Metformin Hydrochloride extended-release: 500 mg
Metformin :
Metformin is an oral antidiabetic drug in the biguanide class. It is the first-line drug of choice for the treatment of type 2 diabetes, in particular, in overweight and obese people and those with normal kidney function. Evidence is also mounting for its efficacy in gestational diabetes, although safety concerns still preclude its widespread use in this setting. It is also used in the treatment of polycystic ovary syndrome, and has been investigated for other diseases where insulin resistance may be an important factor. When prescribed appropriately, metformin causes few adverse effects—the most common is gastrointestinal upset—and is associated with a low risk of hypoglycemia.
The biguanide class of antidiabetic drugs, originates from the French lilac (Galega officinalis), a plant used in folk medicine for several centuries. Metformin was first described in the scientific literature in 1922, by Emil Werner and James Bell, as a product.
The main use for metformin is in the treatment of diabetes mellitus type 2, especially in overweight people. Since intensive glucose control with metformin appears to decrease the risk of diabetes-related endpoints in overweight diabetic patients, and is associated with less weight gain and fewer hypoglycaemic attacks than are insulin and sulphonylureas, it may be the first-line pharmacological therapy of choice in these patients. Metformin is often prescribed to type 2 diabetes patients in combination with other drugs. An extended-release formulation of metformin is safe and effective fortreating people with type 2 diabetes, according to a study recently reported in Diabetes Care.
Glimepiride
Glimepiride is a medium-to-long acting sulfonylurea anti-diabetic drug. Glimepiride is the first third-generation sulfonylurea, and is very potent.
Adverse effects:
GI disturbance, rarely thrombocytopenia , leukopenia, hemolytic anemia, occasionally allergic reactions occur. In the initial weeks of treatment, the risk of hypoglycemia may be increased.
Mechanism of action:
Like all sulfonylureas, glimepiride acts as a secretagogue. It lowers blood sugar by stimulating the release of insulin by pancreatic beta cells and by inducing increased activity of intracellular insulin receptors.
INDICATIONS
DUOLIX-G1 DUOLIX-G2 is indicated as an adjunct to diet and exercise to improve glycaemic control in patients with type 2 diabetes who are already treated with a combination of glimepiride and metformin or whose diabetes is not adequately controlled with metformin alone, or for those patients who have initially responded to glimepiride alone and require additional glycaemic control.
DOSAGE AND ADMINISTRATION
General :Dosage should be individualized on the basis of both effectiveness and tolerance. The combination should be given once daily with meals and should be started at a low dose. The initial recommended dose is one tablet once daily with breakfast or first main meal of the Day.
Starting dose for patients inadequately controlled on metformin monotherapy. Based on the usual starting dose of glimepiride (1-2 mg daily), DUOLIX-G1 DUOLIX-G2 may be initiated once daily, and gradually titrated after assessing adequacy of therapeutic response.Starting dose for patients who initially responded to glimepiride monotherapy and require additional glycaemic control Based on the usual starting doses of metformin extended release (500 mg once daily), DUOLIX-G1 DUOLIX-G2 may be initiated once daily, and gradually titrated after assessing adequacy of therapeutic response . Starting dose for patients switching from combination therapy of glimepiride plus metformin as separate tablets. DUOLIX-G1 DUOLIX-G2 may be initiated based on the dose of glimepirde and metformin already being taken.
Maximum Recommended Dose
The maximum recommended dose for glimiperide is 8 mg daily. The maximum recommended daily dose for metformin extended release is 2000 mg in adults.
CONTRAINDICATIONS
Renal disease or renal dysfunction (e.g., as suggested by serum creatinine levels 1.5 mg/dL [males], 1.4 mg/dL [females] or abnormal creatinine clearance), which may also result from conditions such as cardiovascular collapse (shock), acute myocardial infarction, and septicaemia.


Known hypersensitivity to metformin, glimepiride or any of the components of this product.


Acute or chronic metabolic acidosis, including diabetic ketoacidosis, with or without coma. Diabetic ketoacidosis should be treated with insulin.


Patients undergoing radiologic studies involving intravascular administration of iodinated contrast materials, because use of such products may result in acute alteration of renal function.